This is another thrift store find that I think I paid only $5 for. Sorry I don't have a 'before pic', but I completed this project way before I even dreamed of having a blog.

I began this project because of my introduction to Mod Podge. I just couldn't believe how professional the final results looked! I guess for years I pictured those paper mache projects we all did in grade school, so I never even gave it a shot... until I saw a friend's home decor display at our church's ladies group gathering. (Check out Jessica over at
joyframeworks.blogspot.com
, she has some amazing stuff!)
First, I laid out my paper on the tray and cut my piece to size using an X-Acto knife. Then, I used a small paint brush to cover the bottom of the tray with Mod Podge. Next, I positioned my paper and smoothed it out with my hands. I also used the brush again to apply a layer of Mod Podge on top in order to seal and smooth everything out.
Once it dried completely (I believe this took a couple hours), I watered down some brown craft paint and applied it randomly so that it took on a worn, aged look. I really liked how the brown clung to the wrinkled/textured areas. Let dry and
voilà,
you have now transformed a basic tray into a work of art!
One more thing, I just want to say thanks to the sites who featured me in the past week. I hadn't dreamed of this little ole blog becoming so popular, let alone in just the first week. Buttons are posted below if you'd like to check out their sites. They all have great articles and inspiration to glean from!
Lots of love,
Mary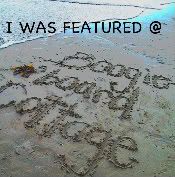 I am linked up here: